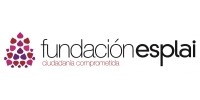 Fundación Esplai, Committed Citizenship is a state-level organization created in 1999 that shares a project with Fundesplai (Fundació Catalana de l 'Esplai).
Our mission is to promote citizenship committed to social inclusion, socio-educational action and the responsible use of information and communication technologies, with a special dedication to children and youth, and betting on the promotion of the Third Sector.
Currently, we have three main fields of work, Social and educational and e-inclusion (main target group: youth and low skilled citizens); training and employment (unemployed youth and ICT/Social professional); Participation and Third Sector (main target group: NGO's, municipalities, experts, Third Sector Stakeholders).
At present, we're focused in development of digital STEM and coding skills, employability, youth empowerment, strengthening of the Third Sector with a transversal view based on gender and intergenerational approach and service learning methodology.
Our vision is to be a recognized and sustainable organization, which combines the local and global logic of its performance and territorial presence, characterized by quality and innovation and by establishing strategic alliances, especially with city councils and the general local world.
Website: http://fundacionesplai.org/
Contact person: Eric Rovira erovira@fundacionesplai.org